Wells Fargo Stock: Stable and Safe Long Play in the Banking Sector (NYSE:WFC)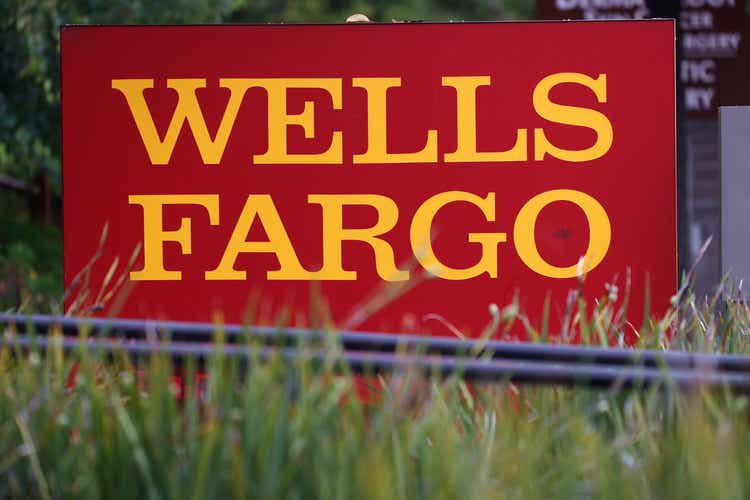 investment work
Well's Fargo (NYSE: WFC) stock has outperformed all its peers over the previous 52 weeks and is ahead of its peers (excluding HSBC) YTD with a gain of over 1% while the rest remain in the red. The company has beaten analysts' EPS expectations 7 times over the last 8 quarters.
The 0.25% rate hike in March is the start of a rate hike cycle that is expected to last for over a year. These higher interest rates mean higher loan interest payments, credit card rates, and mortgage prices, resulting in higher revenues for the bank. The rising interest rates are enacted as part of inflation control and signify an economic recovery leading to higher lending, consumer spending and bank charges. In addition to these bullish factors, the company's cost-saving initiatives are also a major contributor to earnings growth.
WFC also boosted shareholder returns with two dividend increases in 2021 and a $14.5 billion share buyback. Following the recent dividend hikes after a strong year, another imminent dividend increase for 2023 isn't unreasonably to be expected, either, especially since the CEO has reiterated that the bank expects to eventually achieve a payout ratio of 30% to 40%.
I am optimistic about the stock as the rate hikes and economic recovery are leading to high volume of banking activity, leading to strong revenue growth and the cost savings initiatives that will help translate that growth into profit.
Rate hikes and sales growth
The Federal Reserve (FED) earlier this month introduced the first of many rate hikes expected by the WFC and other institutions as part of inflation control measures to combat 40 years of high inflation. The banking sector is one of the few sectors that will benefit from these rate hikes. Its revenues and profits are maximized by the spread between interest earned on loans and interest paid on deposits. With higher interest rates, the bank benefits from higher returns on personal loans, mortgages and credit cards and increases its income.
The S&P 500, as a representative of the stock market, has been shown to perform better during periods of Fed rate hikes compared to rate cuts or normal times. This is also the case in the current era as the S&P 500 is up nearly 2.5% since March 16, which could combine several factors. The fact remains, however, that the rate hikes didn't have an immediate negative impact on stocks at all. In addition, history also suggests that the actual and outstanding results of these migrations can be seen 12 months after the migrations.
According to the Citi Global Wealth Investments Outlook 2022 report, "The Cliffwater Direct Lending Index generated a return of 8.8% as of June 30, 2021, more than double the 4.0% for the high yield bond index. In addition, personal loans are predominantly adjustable rate. As interest rates rise in response to recent higher inflation, personal loan payouts will also increase. The opportunity to achieve higher rates of return through personal lending exists not only in corporate borrower lending, but also in areas such as commercial and residential mortgages and consumer lending."
Accordingly, WFC is well positioned to leverage its sizable footprint, robust operations, widespread investment banking and wealth management services throughout the United States amidst the burgeoning economy. As the bank is predominantly a commercial lender with floating rates, it has already increased its base rates in line with rate hikes and the results will be visible as revenue growth in the second quarter results release.
In 2021, WFC generated net income of $21.5 billion and diluted earnings per share of $4.95 compared to net income of $3.4 billion and earnings per share of 0.43 US Dollars in 2020. This increase in revenue was due to higher net gains from equities, mortgage bank earnings and investment advisory, and other asset-based fee income. However, the results would have been much better had it not been for the lower net interest income (NII). This lower NII is expected to change during the current year and next as Fed interest rates rise.
In its recently filed Form 10-K, WFC reiterated that an immediate 100 basis point (1%) increase in longer-term interest rates would result in a $7.1 billion NII surplus over the next 12 months. With the first rate hike of 0.25% in March and expected rate hikes in each quarter of 2022, especially with St. Louis Fed President James Bullard targeting a 0.5% rate hike, the 1% mark seems within of the year to be achieved. That means the bank will grow profits on rising interest rates, but hitting the $7.1 billion NII increase looks unlikely.
This sensitivity analysis isn't something that literally guides the numbers. Sensitivity can change due to several factors. It also assumes a stable macroeconomic environment and deposit rates. However, it gives us a rough idea of ​​how the interest rate is likely to affect the company's bottom line.
WFC projected its NII to reach $36.9 billion in 2022, up about 3% from $35.8 billion in 2021. However, the actual number is likely to exceed expectations with the additional rate hikes not factored into the chart below. As shown in the chart, the previous expectation was around 0.9% in 2022, but the current estimate has risen to 1.9%, with 6 additional rate hikes in 2022. An additional 100 basis point hike should improve the earnings outlook for the further increase the company. These numbers may differ in reality, but the current circumstances strongly support a bullish scenario.
Improving the Efficiency Ratio: Cost Saving Initiatives and Regulatory Hurdles
First, WFC CEO Charlie Scharf's cost-saving initiatives are commendable. The company significantly reduced its spend in the MRQ with a 7% year-over-year decrease from $57.6 billion in 2020 to about $53.8 billion in 2021 by eliminating layers of management, automating lending platforms, branch consolidations enacted, reduced the office real estate portfolio and occupancy costs and some other undertakings.
That has resulted in an impressive 9% year-over-year decline in the company's efficiency ratio to about 69% in the fourth quarter of 2021. The efficiency ratio measures spending for every dollar generated, so a 69% efficiency ratio means the company spends $69 to generate $100.
This efficiency ratio is compromised by WFC's spending on regulatory inspections to prevent incidents like the sales scandal. WFC also has some unresolved consent orders from 2018 that need to be monitored as they negatively impact its profits and reputation, and therefore its stock price. Recent clearance orders with the Consumer Financial Protection Bureau (CFPB) and the Office of the Comptroller of the Currency (OCC) related to the compliance risk management program, insurance policies protecting motor vehicle collateral and mortgage interest freeze extensions resulted in a $250 million civil award US dollar penalty against WFC in September 2021 for insufficient progress in meeting the requirements under the OCC's April 2018 Consent Order and the Company's home loan loss mitigation activities.
However, as previously mentioned, Charlie Scharf has made significant progress in addressing these issues by prioritizing risk management. The bank has canceled some of its permitting orders and is working to address the remainder while aiming to achieve operational efficiencies that are expected to deliver over $10 billion in gross savings during a multi-year cost savings initiative.
A gross cost savings from these efficiency initiatives of $3.3 billion, partially offset by Bank investments, resulting in a net saving of $1.6 billion, is expected in 2022. These savings, along with revenue growth, will result in an improved efficiency ratio. The bank will essentially improve critical P&L performance metrics.
A final touch: shareholder returns
Aside from management's frontal stance on dealing with the previous incidents, it's also important to note that the company is well positioned to improve its resource utilization and return more performance than it already did.
The company raised its dividend twice in the previous four quarters, from $0.10 to $0.20 and the current dividend of $0.25 after a strong 2021. WFC currently has a payout ratio of 15% but expects it to double to at least 30%. While the company has yet to confirm the timing of the increase, but in anticipation of a strong growth year ahead, the company is likely to make another dividend increase over the next 12 months.
Wells Fargo's Common Equity Tier 1 (CET1) capital ratio, a measure of core capital expressed as a percentage of risk-weighted assets such as loans, of 11.4% exceeds the regulatory minimum requirement of 9.1% by 230 basis points, giving the company a plenty of buffers, enough to stay above the minimums despite the stress tests.
Given the high level of excess capital, investors can reasonably expect the bank to continue its share buybacks and dividend increases in 2022.
Conclusion
There's plenty of tailwind that can be highlighted to support Wells Fargo's optimistic thesis for 2022. I have chosen to turn my focus to rate hikes, the efficiency ratio and shareholder returns to contend that macroeconomic factors will support top-line growth, operational efficiency will support earnings growth, regulatory issues will be addressed through active risk management, and shareholder returns will taken into account by share buybacks and dividends, which are expected to increase further.
The financial services industry is a great addition to your portfolio in the current economic climate, particularly the banking sector which is being positively impacted by the economic recovery and interest rate hikes. WFC particularly stands out in the banking sector for exceptional growth prospects over the next 12 months due to meritorious leadership and proactive management.