These factors affect the interest rates on your bike loan in 2023!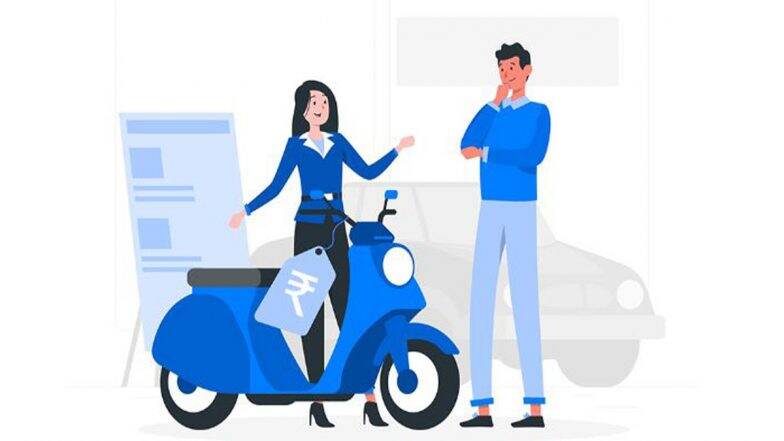 While early 2022 saw a slump in car sales, the two-wheeler segment remained popular among Indian citizens. Two-wheeler sales are showing an upward trend, and popular brands such as Honda and TVS are showing MoM growth. During the festive season, brands offered numerous deals and hefty discounts, resulting in retail sales growing 9 percent year-on-year in September.
During this period, potential bike owners took advantage of lenders' nominal interest rates. The two-wheeler loan rate determines how profitable – and expensive – a two-wheeler is for each buyer. banks, NBFC's and captive finance companies offer interest rates from 6.85% to about 28.3% per year. If you're considering buying a two-wheeler in 2023 and want to decide on bike financing through a two-wheeler loan, it's important to understand the various factors that are likely to impact your bike loan rates.
Types of bike loan rates
When applying for a two-wheeler loan, it is important that you are familiar with the different interest rates for two-wheeler loans.
– Fixed rate: If you choose a fixed rate, the EMI amount stays the same throughout the repayment period. The interest rate remains unchanged regardless of market movements.
– Variable interest rate: If you choose a floating rate, the EMI amount may change based on market conditions. For example, the floating rate can be either below or above the fixed rate, which introduces uncertainty.
Factors affecting bike loan rates
If you decide to finance a bicycle with a two-wheeler loan and choose a fixed interest rate, then several factors can influence the interest rate.
One of the most important factors that can affect the two wheeler loan rate is your credit rating. Today, banks are reluctant to approve loans if you have a credit score of less than 750. On the other hand, NBFCs sanction loans even if the applicant has a credit score of 600. However, the interest rate on the loan amount is significantly high. So if you build a good credit profile and have a credit score above 750 in 2023, your loan application will be approved fairly quickly and you'll enjoy nominal interest rates.
When looking through finance bike options, you should consider a sizable down payment covering 30-40% of the vehicle's street price. This, in turn, causes the lender to charge a nominal interest rate.
employment status and income
Your employment status and income play a crucial role in determining the interest rate on the two wheeler loan. If you are an employee and earn more than 1 lakh a month, your loan application will be approved faster and you can benefit from low interest rates.
If you are planning to stay or move to a metropolis this year or in 2023, you will be faced with high interest rates. This is due to the debt to income ratio (DTI). Since your daily expenses are higher in metros than in Tier 2 cities, your income will need to be significantly higher to repay the loan. This allows lenders to charge a higher interest rate on the loan amount.
Your age also plays an important role in determining the two-wheeler loan interest rate. You can easily pay off your debt when you are young – in your 20's or 30's. However, as you get older – in your late 50s – your ability to repay the loan decreases significantly. Lenders will consider these factors when expanding bike financing options. So the older you are, the higher the interest rate will be. If you hit your late 50s in 2023, expect high interest rates.
The two-wheeler model, its type and make also influence the interest rate that the lender charges. The more expensive the two-wheeler, the higher the interest rate. Lenders favor financing bikes that inherently have a high resale value.
Finally, the term of your loan also affects the interest rate on the loan amount. The longer the term, the lower the interest rate.
How can you lower the two-wheeler loan rate?
If you still have at least 5-6 months until you decide to get bike financing in 2023, there are a number of things you can do to improve your credit profile. This in turn allows you to benefit from low interest rates.
Improve your credit score
You can try to improve your credit score by paying off your debt and paying your EMIs on time. Once your CIBIL score reaches 750, you can apply for a bike loan and benefit from a lower bike loan interest rate.
Debt to Income Ratio
You can also improve your debt-to-income ratio by paying off old loans, reducing various expenses, and making credit card payments on time. Getting your debt-to-income ratio below 40% gives you a better chance of getting attractive interest rates on your bike loan.
Improve your relationship with the lender
You can either negotiate with the lender or apply for a two wheeler loan from a lender with whom you have an existing relationship. You can speak to your bank and see if you can get low interest rates on the two wheeler loan.
Conclusion
The above factors will determine the interest rate on your two wheeler loan. Additionally, you can aim for low interest rates by improving your credit profile and debt-to-income ratio in 2023. Certain lenders also have no minimum credit requirements and offer nominal interest rates with flexible repayment terms. For example, Bajaj Markets offers two wheeler loans at low interest rates and has no minimum credit requirements! Benefit from attractive two-wheeler loan interest rates by opting for bike financing on the digital platform.