SouthState Bank Has Growth Potential, But Improved Profitability Would Help (NASDAQ:SSB)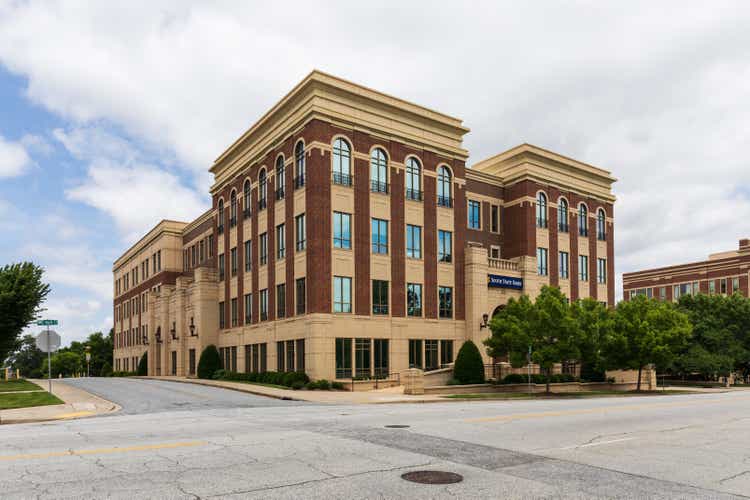 The past year has been challenging for Southern Bank (SSB), and that's reflected in a stock price that has underperformed its peers by 10% to 25% over the past year (depending on how you define the peer group). A major pre-deployment failure in the second quarter spooked many investors and the subsequent announcement of its acquisition intent Atlantic capital (ACBI), while appearing consistent with the long-term strategy, appeared to raise some questions about whether SouthState's management needs to pause inorganic growth for a while and improve internal metrics.
I think SouthState's lagging yield metrics (e.g., below-average ROA) are a valid criticism, but I also want to note that this is a very interest-rate-sensitive bank that is currently significantly weighed down by excess liquidity. In addition, I think the bank has also evolved into a larger bank over the long term, trading some short-term inefficiencies for longer-term benefits.
I believe SouthState is poised for strong long-term core earnings growth in the mid-single digits, and I think the company's leverage to growing Southeast markets and interest rate sensitivity give it hit-and-raise upside potential. Still, it's a stretch for me to call this a steal despite the relative underperformance at today's price point.
End the year on a better grade
SouthState had a good core hit in the fourth quarter, with much of the outperformance coming on the pre-provisioning line. Interest rate and liquidity issues are still there, but underlying credit demand is picking up and management should be looking at a number of better options for using cash.
Revenue declined 4% year over year and rose 1% quarter-on-quarter, up about 3% from expectations. Net interest income fell 3% year-on-year and 1% qoq, but still fell 2%; The net interest margin declined 50 basis points and 8 basis points year-on-year to 3.14%, missing by just 2 basis points. Fee income declined 6% year-over-year and increased 6% qoq, with correspondent banking revenue up 20% year-on-year and 9% qoq.
Core operating expenses declined slightly year-over-year and were up 2% qoq, missing about 2% and taking $0.04 off earnings on top. Improved cost efficiency is something I'd like to see a little more prominently as a strategic priority, as I think an efficiency ratio above 60% will remain a negative sentiment factor.
Pre-provision earnings fell about 7% year-over-year and were flat sequentially, but still strong enough to post a $0.07/share hit. The provisions generally corresponded to expectations.
Credit demand is improving but still waiting for interest rates to kick in
Reported ex-PPP loan growth has not been particularly impressive (less than 2% qoq), but repayments remain high (around 0.7% of total loans at the end of the period). Despite this, core C&I loans were up about 1.5% qoq and investor-owned CRE loans were up 4% qoq.
More impressive to me was the 19% sequential production growth and continued comment that credit demand is improving across the footprint. I was also encouraged by management's guidance that barring PPP exits and increased repayments, high single-digit to low double-digit loan growth should be achievable; I don't think that'll happen before the end of 2022, but I do think SouthState is well-positioned to deliver above-average loan growth over the next two to three years.
While there is much talk about the upcoming interest rate cycle, and I'll get to that in a moment, there are some near-term headwinds to be aware of regarding SouthState's loan book. Additions are still coming to the books well below average portfolio rates (3.13% vs. 3.77% in Q4) and the backbook (2018-2019) ended at rates around 4.75%. With that, NIM probably hasn't bottomed out yet, but should do so again in the next few quarters.
On a more positive note, this remains a very asset-sensitive bank with significant leverage to higher rates. With 15% of assets in cash and an adjustable rate loan portfolio poised for repricing, a shocking 100 basis point rate hike would increase net interest income by an estimated 15% in year one (and 20% in year two) – "average" sensitivity right now is in the 5%-6% neighborhood. And for those who don't follow banks closely, while a 100 basis point shock rate move is not at all likely, it is a somewhat standardized approach/metric that facilitates comparisons of rate sensitivity across banks.
The outlook
Getting Atlantic on board is the biggest short-term imperative; The bank is still awaiting all final approvals but should be able to close the deal towards the end of the first quarter. Atlantic had a good quarter (credit was up more than 5% QoQ on strong C&I and CRE) and I like the added leverage for Atlanta as well as the significant business for fintech clients.
Aside from the Atlantic integration, there is still a lot of "block and tackle" work to be done. SouthState operates in some very attractive markets from a population, income and credit growth perspective, but also in an intensely competitive market. Continued recognition of the bank as a preferred banking partner will be important for long-term success and I would like to see some improvement in profitability metrics such as the efficiency ratio.
I believe strong markets and interest rate leverage can help deliver very good earnings growth over the next few years, and I'm looking for a long-term core earnings growth rate in the high-mid single digits (above 6%). I view future mergers and acquisitions as a practical certainty, and I think there is some "top-up"/expansion opportunity in markets like North Carolina.
The final result
I'm pretty positive about SouthState as a franchise; I think some concerns like efficiency ratio will improve over time. My bigger problem now is the rating. I don't think SouthState is necessarily expensive, but it looks "fairly valued" from my long-term discounted earnings model, and I'm really inclined to significantly up 13x or 13.5x 2023 EPS at this point exceed. However, I see room for upside in earnings estimates for 2023 and beyond, so this would be a name worth pursuing should a cheaper entry point emerge.