New "no-legs" crane ship for next generation jackets launched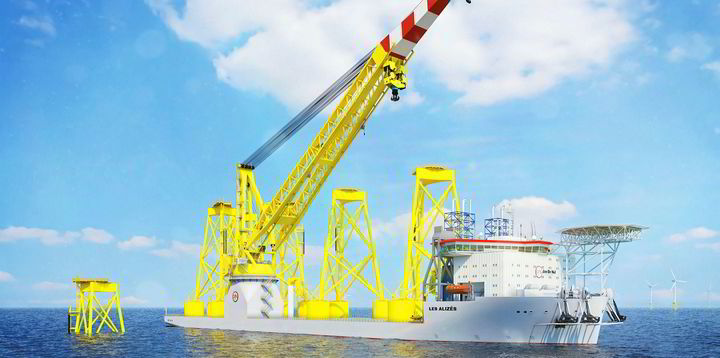 Dutch contractor Jan De Nul has pushed plans to build a new oversized floating crane ship. Les Alizés, on his second major investment in an offshore wind turbine in the past six months.
Announcement of the new ship, the follows the decision to build The Giant Voltaire Jack-up – for use in the UK 3.6 GW Dogger Bank Complex, is being built by China Merchants Industry Holdings' shipyard in Haimen, China, for launch in 2022.
Named after the French word for "trade winds", Les Alizés will have a lifting capacity of 5,000 tons and a 9,300 square foot deck that can carry 61,000 tons of cargo.
"On order Les Alizés Today, from 2022 onwards, we will have not one but two offshore installation vessels capable of installing the latest generation of offshore wind farms, "said Philippe Hutse, Jan De Nul Offshore Director, adding that" similar to the Voltaire, we financed this investment through a green loan thanks to the green emission reduction technology on board the ship. "
Peter De Pooter, the company's manager for offshore renewable energy, added: "The mandate of the Voltaire was a first step in our strategy to install the latest generation of offshore wind turbines. With Les Alizés We want to further strengthen our vision and our belief in the future of offshore wind energy. "