Consumer credit union personal loan review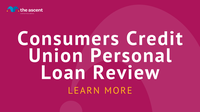 Top perks
Big Loans
CCU offers unsecured personal loans that can range up to $100,000 and are designed to give you cash to use however you choose, including debt consolidation. Many financial institutions have credit limits of $40,000 or $50,000.
Co-signers accepted
If your credit score is below 650 or you don't have a long credit history, you won't get the best rates. Co-signers can help you get a lower interest rate than you could get alone with a lower credit score or no credit. Not many financial institutions allow you to add a co-signer.
No prepayment penalty
You can make a partial payment or the entire loan amount at any time with no prepayment penalty or fee. This means that any payments made on top of your regular loan payment will count towards the loan amount.
prequalification tool
You can check your interest rate before applying for the loan. The prequalification tool does not affect your creditworthiness. If you later wish to apply for credit, CCU will request your full credit report from one or more consumer credit bureaus.
What could be improved
Interest rates higher than competitors
CCU's minimum interest rate of 8.47% is higher than many of its competitors. Some financial institutions have interest rates as low as 4%, less than half that of CCU.
$29 late fee
The credit union charges a $29 late fee. Some financial institutions have no-fee loans that do not charge late fees.