CHIEF CABINET RECUSERS | local news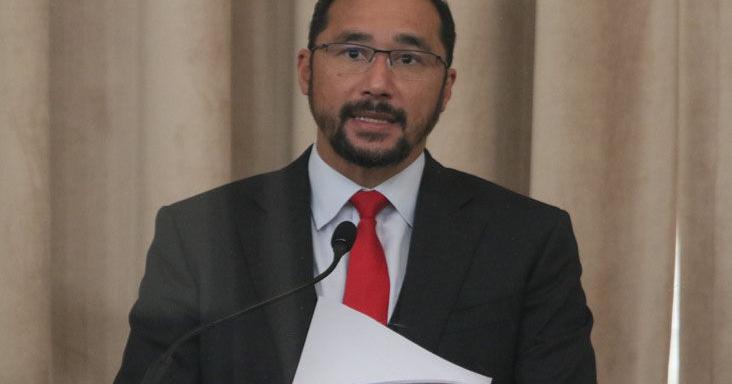 Energy Secretary Stuart Young has withdrawn from cabinet deliberations no fewer than 98 times since becoming Prime Minister in September 2015.
And local government minister Faris Al-Rawi has resigned no fewer than 58 times since becoming minister on September 9, 2015.
This information is being provided by the Cabinet Secretariat in response to a Freedom of Information request filed by activist Ravi Balgobin Maharaj through his attorney, former Attorney General Anand Ramlogan, SC, requesting details of cases in which members of the Cabinet have withdrawn from affairs discussed in cabinet meetings between 9 September 2015 and 1 February 2022.
According to Secretariat correspondence dated July 12, 2022, Young had the most denials during this period, followed by Al-Rawi. Together they made up the majority of the 156 rejections. From September 9, 2015 to February 1, 2022, there were 265 refusals from members of the Rowley cabinet.
When contacted for comment on the denials, Young said it was noteworthy that (PNM ministers) who acted with integrity were being targeted for doing the right thing and that the UNC was trying to take action which conforms to the standards of public integrity, and use it to attack PNM ministers.
He said: "The details [of my case] are that my brother works for a publicly traded financial institution (NCB Global Finance) which is the second largest indigenous financial institution in Caricom. He is an employee and not the owner of this facility.
"Furthermore, as has been said on numerous occasions, this institution has been successful in less than three percent of all government calls for funding.
"Furthermore, I have made the decision to be extra cautious and have withdrawn from and have not attended any cabinet deliberations that merely mention this financial institution.
"Therefore, the number of rejections is directly related to each time a Cabinet memo intended to inform the Cabinet of competitive bidding for government funding includes the name of that company.
"I have withdrawn and not participated (in the deliberations) in all of these cases. From the moment the company's name is mentioned in the note, even if they don't make an offer, I waive myself.
"As soon as I saw the company's name in the note, I decline, and that's why the three percent of 100 percent (government business) matters because it's almost de minimis (small).
"And besides, if this financial institution was successful the three percent of the time, it (the profit) didn't go to my brother because he's just an employee.
"The law provides provisions and sets the test of where an advantage to you or a family member of yours may pass. And I have gone well beyond what is required by law because there is no benefit to me or any family member as my brother is an employee of a public company."
Young's rejections
The majority of Young's denials occurred in 2020 (33) and 2022 (36).
In 2020, Young's denials included:
January:
• Mandates CIBC First Caribbean International Bank to arrange two eight-year fixed rate loans for UDeCOTT for partial project financing for the redevelopment of the central block of the General Hospital of Port of Spain;
• Received a mandate from Scotiabank to establish a five-year non-revolving fixed rate loan facility to fund the construction of the San Fernando Magistrate's Court;
• Granting a mandate to RBC Merchant Bank to arrange and fully underwrite seven-year fixed rate promissory notes for NIPDEC to cover the cost of sourcing, warehousing and distribution of pharmaceutical and non-pharmaceutical items.
February 2020
• Mandated NCB Global Finance Ltd to issue a fixed rate loan of up to TT$1.5 billion for budget support;
• Amending decisions relating to the reserving of Government land at Douglas Road, Barrackpore for use by Princes Town Regional Corporation for the establishment of a Muslim cemetery and access road.
march
• the granting of a mandate to Scotiabank to arrange and assume a four-year fixed rate non-revolving loan facility to finance the fitting out of Tower D, International Waterfront Center to accommodate the relocation of the Civil High Court and Civil Division of the Court of Appeal;
* Trinidad and Tobago International Financial Center Management Company Management Report as of September 2019;
• Mandated RBC Merchant Bank to arrange a US$300 million nine-year fixed rate debt obligation to fund MTS's operating expenses.
April
* Awarded mandates to RBC Royal Bank, Ansa Merchant Bank and First Caribbean International Bank Limited to provide three loan facilities totaling US$72.3 million to refinance two existing government-guaranteed facilities located at Republic Bank Limited to be mistaken for petrotrine;
• Ratified approval for the award of a mandate to FCB and Republic Bank to arrange and fully commit to a 6.30 percent, three-year, $102.3 million GORTT fixed rate bond issue subscribe to facilitate the repayment of existing debentures.
Can
• Appointed ANSA Merchant Bank to arrange a US$65.6 million five year fixed rate US dollar loan for CAL;
• Proposal for the survey and excision of five acres of state land on the former government farm at St. Joseph and the granting of an agricultural lease to Sprout Farm Limited for the construction of a greenhouse facility;
• Appointment of Credit Suisse and FCB as co-lead managers/arrangers for GORTT's up to US$500 million bond offering on the international capital markets;
• Mandated NCB Global Finance Limited to provide a TT$125 million fixed rate loan to WASA.
June
• Granted a mandate to Republic Bank to arrange a TT$600 million 12-year fixed rate bond issue to facilitate the refinancing of an existing $600 million GORTT bond issue;
• Proposal to mandate JMMB Bank Trinidad and Tobago Limited to arrange a fixed rate loan to facilitate the repayment of an existing UDeCOTT bond facility due October 31, 2020;
• Awarded a mandate to RBC Royal Bank to arrange and fully underwrite a six-year fixed rate loan for UDeCOTT to provide partial project financing for the PoS General Hospital central bank rehabilitation.
2021
• Appointed NCB Global Finance Limited to arrange and fully underwrite a seven year fixed rate term for NIPDEC;
• Mandated NCB Global Finance to provide WASA with a fixed rate government guaranteed syndicated loan to settle outstanding debt to Desalcott;
• Realignment of the mandate of T&T International Financial Center Management Company;
• Amendment of the resolution to issue a mandate to NCB Global Finance to issue a fixed rate bond for budget support purposes for the financial year 2020/2021.
Other rejections:
• Mandate FCB to set up a four-year lump sum payback upon application for concessions for the provision of public domestic telecommunications services;
• Granted a mandate to Republic Bank to arrange a 12-year fixed rate loan approval to fund the continuation of ongoing projects under the Department of Education's school building program;
• Approved funding for priority projects and established a Cabinet-appointed implementation committee to interact with the private sector.